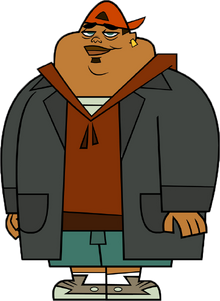 Beverly "B" was a camper on Total Drama: Revenge of the Island, as a member of the Toxic Rats.
Role in the series
Personality
Edit
Due to the fact that he has never spoken, lack of background information, and relatively short time on the show, very little is actually known about B. One thing that can be drawn for sure is that his intelligence level is through the roof, and this has led to the production of many impressive creations throughout his short time on the show. He is able to make the best of any situation and overall is a very useful asset to one's team. He comes across as very relaxed in demeanor and takes pride in his brains. The exact reason that B never speaks is currently unknown. On some occasions he has opened his mouth but gets cut off, such as during his elimination or his audition tape. This suggests that B has no real problem with speech; he just prefers to stay quiet.
Relationships
Edit
Ad blocker interference detected!
Wikia is a free-to-use site that makes money from advertising. We have a modified experience for viewers using ad blockers

Wikia is not accessible if you've made further modifications. Remove the custom ad blocker rule(s) and the page will load as expected.