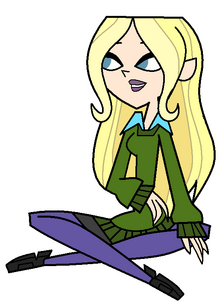 Dawn was a camper on Total Drama: Revenge of the Island as a member of the Toxic Rats.
Role in the series
Personality
Edit
Dawn is a mysterious nature lover who wants to use the prize money to help Mother Earth. She is able to communicate with all kinds of animals, mutated or not, who take a strong liking to her. She is frequently seen meditating, and reads her tea leaves presumably every morning. Dawn is also well known for having the ability to read people's auras. In fact, her first line in Total Drama: Revenge of the Island is her telling B his is "exceptionally purplish-green, but it suits you." It is likely through this skill that she is one of only two people to figure out Mike's disorder without having to be told. Among this, Dawn also shows signs of having other supernatural powers. In Bigger! Badder! Brutal-er!, Chris blows up the boat she and other new contestants are on, forcing them into the water. Not only does she arrive at the beach first, but she was also completely dry, which baffles Jo. Dawn states that she can predict people's futures, which proves to be true later in the season. She ends up foretelling the unfortunate fate of another player. Beyond her unconventional characteristics, Dawn appears to be kindhearted and very helpful, although she comes across as creepy to the others.
Relationships
Edit
Ad blocker interference detected!
Wikia is a free-to-use site that makes money from advertising. We have a modified experience for viewers using ad blockers

Wikia is not accessible if you've made further modifications. Remove the custom ad blocker rule(s) and the page will load as expected.