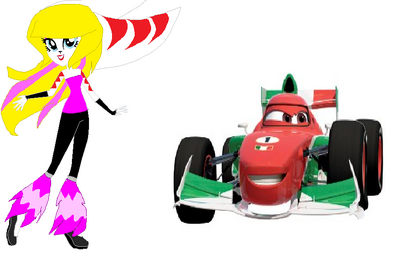 Diana first fell in love with Franceso in Sonja's Adventures of Car 2. They met face to face for the first time when they at Tokyo. Diana doesn't want to tell the others that she is in love with Francesco and now she tells that, her friends accept that.
Sonja's Adventures of Cars 2
Edit
Diana and Francesco first met each other when they arrived in Tokyo. Through out the World Grand Prix, Diana seems to cheer for Francesco instead of Lightning because she loves him. At the ending, Sonja allows Francesco to join the team so he can be with Diana.
Sonja's Adventures of Total Drama-World Tour
Edit
Francesco is in the Aftermath like all of Sonja's friends. He thinks about Diana through out the Aftermaths and when Diana is eliminated along with Itsuki, Courtney, and Blaineley and got sent to Hawaii to root for the final three contestants. Francesco is really happy to see her again and he misses her. At the final episode, Diana is seen sitting on top of Francesco on the boat after being rescued by Finn and Holley.
Ad blocker interference detected!
Wikia is a free-to-use site that makes money from advertising. We have a modified experience for viewers using ad blockers

Wikia is not accessible if you've made further modifications. Remove the custom ad blocker rule(s) and the page will load as expected.