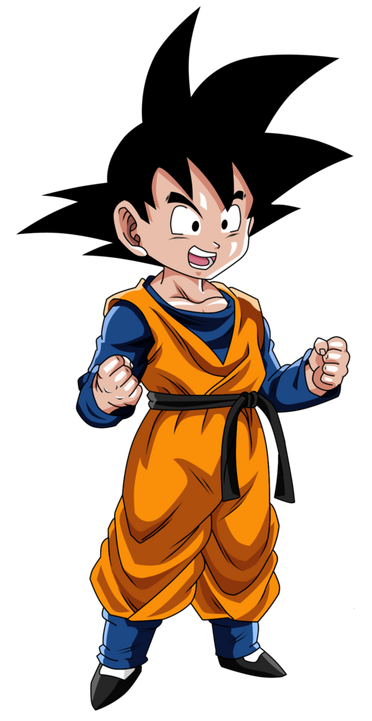 Goten
 (孫悟天, 
Son Goten
) is the younger son of Goku and his wife Chi-Chi, making him a Saiyan and Human hybrid. Goten is Gohan's younger brother and Trunks' best friend.
Role in the series
Personality
Edit
As a child, Goten is naive, fun-loving and kind-hearted like his father. He is also somewhat mischievous, due to being influenced by his best friend Trunks and joins him in their many antics. Between Trunks and himself, he is surprisingly the voice of reason, though he usually goes along with the former's ideas. Goten is also well mannered, as he always bows before he faces someone in a fight. He looks up to and greatly admires his older brother Gohan (he was the only person who finds Gohan's embarrassing Great Saiyaman costume to be "cool"). When Trunks had blamed the tournament intermission on Gohan's defeat in the previous match, Goten quickly became agitated and aggressive towards the other in an attempt to defend his older brother's honor.
Goten loves play-fighting and bug catching.[2] Goten also shows great love for wild animals, a trait obviously passed down from his father Goku, as he is seen often getting distracted from training by them on more than one occasion. Goten also shares the typical Saiyan appetite, like his father and brother. In one episode following Trunks and Goten awakening at Kami's Lookout after being knocked out by Vegeta, Trunks successfully wakes up Goten by telling him it was time to eat, which made Goten excited; this is similar to what Bulma used to wake Goku up when he was facing Jackie Chun. Goten's favorite food is pocky sticks and strawberry daifuku.[2]
As a teenager and an adult, Goten is still kind-hearted and considerate of other people, but is seen to be more mature. He settles down to live more or less as a normal teenager, worrying more about girls and bikes[2] than fighting.
Relationships
Edit
Ad blocker interference detected!
Wikia is a free-to-use site that makes money from advertising. We have a modified experience for viewers using ad blockers

Wikia is not accessible if you've made further modifications. Remove the custom ad blocker rule(s) and the page will load as expected.