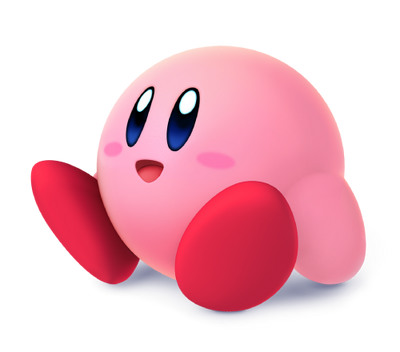 Kirby
 is the titular pink puff and main protagonist of Nintendo's 
Kirby
series of video games named after him. The series has been running for over two decades, and nearly thirty titles have been released under Kirby's name, most of which are developed by HAL Laboratory, Inc. or published by HAL for co-developing studios
Role in the series
Personality
Edit
Kirby is largely innocent and has a cheerful demeanor and a positive attitude. He likes to help other people so much, sometimes he goes out of his way to do it; in the Dyna Bladesub-game of Kirby Super Star Ultra, he feeds Dyna Blade's chicks on his own (though expresses annoyance at Dyna Blade's chicks' constant noise-making before dragging them off to Whispy Woods to be fed by the constant dropped apples from the tree's branches) and teaches them how to fly. He has been shown to have a sense of justice, and won't spare someone who is a danger to those around him, as evidenced by his battles against final bosses. Throughout the many dangers he is put through, he is notably brave, maintaining a neutral expression almost constantly. This is especially evident in the Subspace Emissary. In the anime, he doesn't harbor dislike for anybody, in particular, not even King Dedede or Escargoon who mostly cause trouble for himself, and mostly greets everyone he meets.
While he is brave and has a sense of justice, Kirby is quick to suspect King Dedede as the culprit for mischief, such as at the beginning of Kirby: Squeak Squad. In fact, Kirby has demonstrated a consistent impulsive streak throughout the series and can be as quick to start fights as he is to pass them by, fighting Dedede, Meta Knight and Dyna Blade on impulse. He also willingly responded to Dedede's call for a rematch and attacked Shadow Kirby without thinking. This recklessness can often lead him into trouble or cause him to create trouble (such as when he accidentally released Nightmare).
His personality in Kirby's Avalanche is different, where he is depicted as somewhat rude. This is especially evident with his encounter with Whispy Woods, where, despite being warned by Whispy Woods not to step on his roots, he steps on a root and then quips about wanting some apple pie. However, the game is considered non-canon.
Relationships
Edit
Ad blocker interference detected!
Wikia is a free-to-use site that makes money from advertising. We have a modified experience for viewers using ad blockers

Wikia is not accessible if you've made further modifications. Remove the custom ad blocker rule(s) and the page will load as expected.