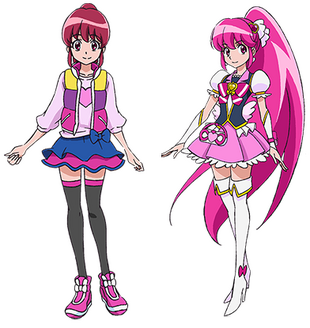 Aino Megumi (愛乃 めぐみ Aino Megumi?) is the main character ofHappiness Charge Pretty Cure!. She is a 14 year old girl, who is always energetic. Megumi's alter ago is Cure Lovely (キュアラブリーKyua Raburī?), and her Form Changes are the red Cherry Flamenco (チェリーフラメンコ Cherī Furamenko?), and the yellow Lollipop Hip Hop (ロリポップヒップホップ Roripoppu Hippu Hoppu?). Her catchphrase is "Happiness to the max!" (しあわせ ハッピーネス! Shiawase Happīnesu!?)
Role in the series
Personality
Edit
Energetic, smiling, and full of grace, she is popular with everyone. She is very helpful and whenever someone is in trouble or feels depressed, she cannot help but get involved. She is positive no matter what happens, and can overcome almost anything. She is pretty much interested in fashion and admires it, but her own sense of fashion is rather numb.
She does have some insecurities when it comes to helping others. She is sometimes afraid that her tendency to help others comes off as selfish and that she only does so to get compliments from everyone, even though friends assure that she does so to help make others happy. She can also be clumsy at times.
Relationships
Edit
Ad blocker interference detected!
Wikia is a free-to-use site that makes money from advertising. We have a modified experience for viewers using ad blockers

Wikia is not accessible if you've made further modifications. Remove the custom ad blocker rule(s) and the page will load as expected.