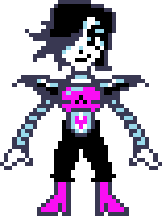 Mettaton (/ˈmɛtəˌtʌn/) is a robot with a SOUL and was built by Alphys. Initially poised as an entertainment robot turned human killing robot, Mettaton is later revealed to have only acted as such. Mettaton is the sole television star of the Underground.
Role in the series
Personality
Edit
Mettaton is a confident, charismatic, and charming TV host that loves drama, action, and violence. He lives for his ratings and adores performing. He supposedly strikes a pose when he does something wrong and makes time on his various shows to beat up "heel-turning villains." He shows a rather shallow appreciation for existence at times. However, despite his seemingly narcissistic personality, he deeply cares about the seemingly positive impact his show has had on the inhabitants of the Underground.
Relationships
Edit
Ad blocker interference detected!
Wikia is a free-to-use site that makes money from advertising. We have a modified experience for viewers using ad blockers

Wikia is not accessible if you've made further modifications. Remove the custom ad blocker rule(s) and the page will load as expected.