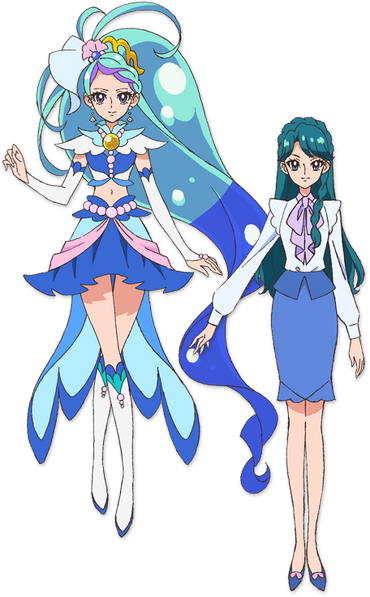 Kaido Minami
 (海藤みなみ 
Kaidō Minami
?
) is one of the main Cures in 
Go! Princess Pretty Cure
. She is a 14 year old girl and has a strong sense of responsibility as well as caring for others like an older sister. Minami's alter ego is 
Cure Mermaid
 (キュアマーメイド 
Kyua Māmeido
?
), the Princess of the Sea.
Role in the series
She first appeared in Sonja's Adventures of The Little Mermaid when Nefarious fell in love with her when she was singing, which she failed to notice at first. They soon started dating, much to Sonja and the others' delight. However, unbeknownst to them, the Shadowling Trio are disgusted and jealous to see that Minami is Nefarious's new girlfriend and planned anything to make Minami break up with him but their plans repeatedly failed and backfired all the time.
Personality
Edit
Minami is a sophomore at Noble Academy who is nicknamed as the "Academy's Princess". She has a strong sense of responsibility who can sometimes be strict as well but cares for others like a caring older sister. She dreams of becoming a respectable person who can be useful to others. In episode 9, it is revealed that she is afraid of ghosts. 
Relationships
Edit
Dr. Nefarious
Edit
Minami's love interest/boyfriend. She was singing and Nefarious fell in love with her which Minami failed to notice at first but also finds him amusing when he freezes and plays the space opera Lance and Janice. Minami also sing songs and dance ballet for Nefarious to enjoy in love. In Sonja's Adventures of Hunger Games-Mockingjay, Nefarious used Sonja's shield too much that made him transform back into his organic form which Minami failed to recognize him at first much to his dismay, Minami finally recognized Nefarious when he explained that he used Sonja's shield too much that he turned back into his original organic form. Throughout the series, their relationship grew stronger and healthier.