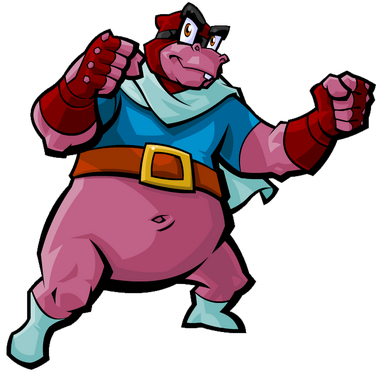 Murray, the brawn, is the tritagonist of the 
Sly Cooper
 series. He is a male hippopotamus with pink skin and brown eyes. He is best friends with Sly Cooper and Bentley, and is a member of The Cooper Gang. He has a great love for his Van, which he drives when the gang needs a quick getaway.
Role in the series
Personality
Edit
One of the few comic relief characters in the game, Murray started off as a coward in Sly Cooper and the Thievius Raccoonus. Before the events of Sly 2, his love for masked wrestling, and learning that he can put up a fight in the field, made him discover his strength. He is much bolder in Sly 2, but witnessing Bentley get crippled and his eventual soul search gives him compassion and represses his rage to a point where he can call upon it when need be. It is implied by several cut-scenes that Murray is still a child deep down inside mainly due to his unstable behavior, and despite his incredible strength and his bold personality in both Sly 2 and Sly 3, he is shown often as the first person to cry in any situation. Murray is also extremely determined and loyal, as he helps mend Bentley's fear of Sly not being his friend, and refuses to give up on his associates at any cost. During the rescue of his van, he is told multiple times that it is far too dangerous, but refuses, as the memories of his time with the gang in there is far too precious to him. His determination is so strong, he even moves the Panda King, who notes that Murray shows extreme compassion and heart.
Relationships
Edit
Ad blocker interference detected!
Wikia is a free-to-use site that makes money from advertising. We have a modified experience for viewers using ad blockers

Wikia is not accessible if you've made further modifications. Remove the custom ad blocker rule(s) and the page will load as expected.