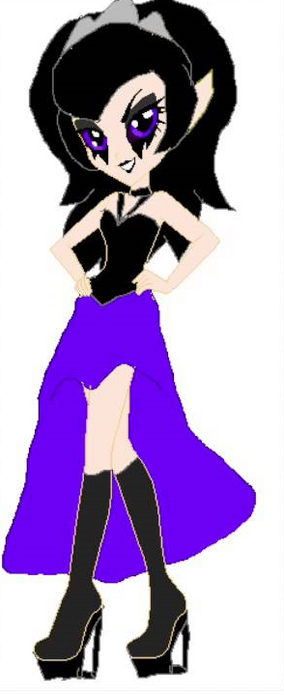 Pixie Dark is one of Sonja's enemies and one of the villains of Sonja's Adventure Series. Like Shadow Moon and Moona they work with each villains and their attempting to capture Sonja so they turn her into a Shadowling like what Queen Vixion tells them. She is voiced by Sonja Farrington.
Role in the series
Personality
Edit
Pixie Dark is very sarcastic, beautiful, cold-hearted, evil, sassy, and moody. Like Shadow Moon, she always gets easily annoyed with Moona. Her personality is similar like Aria Blaze from Rainbow Rocks. She also has a frightening anger of when her tiara is stolen by a group of Murkrow and takes extreme actions to retrieve her tiara
Interests
Edit
Dislikes
Edit
Relationships
Edit
Erika Kurumi
Edit
Pixie Dark cannot stand Erika's energetic and noisy attitude. They don't seem to get along so well and quarrel over trivial matters or their own ideas, especially if they're competing together. Also, Pixie Dark is rather annoyed about Erika dressing up and acting like a mummy with Izzy
Ad blocker interference detected!
Wikia is a free-to-use site that makes money from advertising. We have a modified experience for viewers using ad blockers

Wikia is not accessible if you've made further modifications. Remove the custom ad blocker rule(s) and the page will load as expected.