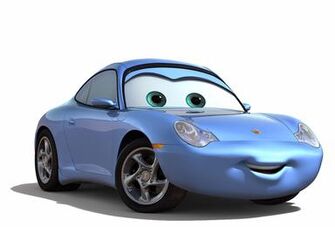 Sally Carrera (or simply known as "Sally") is the tritagonist of the 2006 Disney/Pixar animated film, Cars, and a supporting character in its 2011 sequel, Cars 2. She is the attorney of Radiator Springs, and Lightning McQueen's love interest, which he later becomes her boyfriend.
Role in the series
Personality
Edit
Sally is kind and pleasant, like many of the townsfolk, and witty, charming and intelligent. Both she and her boyfriend like feeling the wind when they are both driving along. When formerly working as an district attorney in California, Sally felt bored of her life, and went to Radiator Springs to have a life that is nicer and quieter.
She can get embarrassed when people notice her pinstriping tattoo, although it does help remind her of her past, and how happy she is with her present. She also gets excited when customers come into Radiator Springs, since there were hardly any in the past.
Relationships
Edit
Ad blocker interference detected!
Wikia is a free-to-use site that makes money from advertising. We have a modified experience for viewers using ad blockers

Wikia is not accessible if you've made further modifications. Remove the custom ad blocker rule(s) and the page will load as expected.