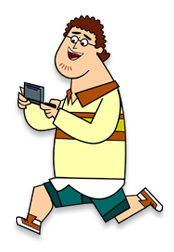 Samuel "Sam" was a camper in Total Drama: Revenge of the Island, as a member of the Toxic Rats. He later returned as a contestant for Total Drama All-Stars, as a member of the Heroic Hamsters. He also had a cameo on Total Drama: Revenge of the Island in the episode The Treasure Island of Dr. McLean with Gwen.
Role in the series
Personality
Edit
Sam is addicted to video games and his GameGuy. In fact, his first ever appearance in the series involves him playing on his console, excited about an upgrade. He is known to enjoy MMORPG (Massive Multiplayer Online RolePlaying Game) games. As a result of his attachment, Sam's physical strength is lacking and he is the slowest contestant of the second generation. However, Sam is a kind, optimistic guy who is easy to get along with and not hesitant to give compliments, and even though he has bad luck, he wants to help his team win and be useful to them. He tends to use language and terms related to video games, such as when he calls his teammates "expert level awesome" in Saving Private Leechball. He also says he needs a "power up" or "power levels low" whenever he's tired and low on energy.
Relationships
Edit
Ad blocker interference detected!
Wikia is a free-to-use site that makes money from advertising. We have a modified experience for viewers using ad blockers

Wikia is not accessible if you've made further modifications. Remove the custom ad blocker rule(s) and the page will load as expected.