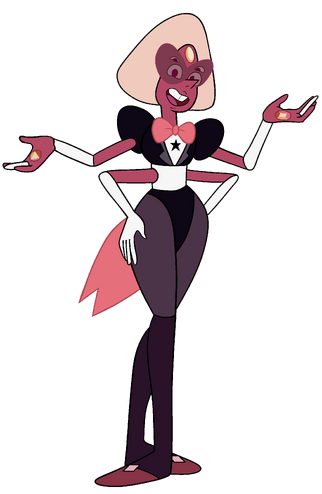 Sardonyx is the fusion of Pearl and Garnet (and, by extension, Ruby and Sapphire). She made her debut in "Cry for Help".
Role in the series
Personality
Edit
Sardonyx appears to have a combination of Garnet and Pearl's personalities, acting decidedly theatrical while also being able to keep up an intelligent conversation. Her demeanor is, for the most part, quite dramatic, as she prefers conversing with her peers in a matter similar to how a master of ceremonies would to her audience, which fits her formal dress appearance. She seems to be snarky and witty, often laughs at her own jokes, and remarks in a very pompous and comedic manner. She also seems to hold a very cheerful attitude towards almost anything as seen when she takes down the Communication Hub. She thinks very highly of herself and can be rather cocky at times, occasionally forgetting about others' feelings[1]. Despite this, Sardonyx is completely capable of being serious when necessary; when Garnet and Pearl fuse to escape a crushing deathtrap, Sardonyx breaks out without hamming it up or sticking around any longer than necessary.
Relationships
Edit
Ad blocker interference detected!
Wikia is a free-to-use site that makes money from advertising. We have a modified experience for viewers using ad blockers

Wikia is not accessible if you've made further modifications. Remove the custom ad blocker rule(s) and the page will load as expected.