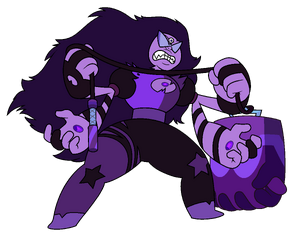 Sugilite is the fusion of Amethyst and Garnet (and, by extension, Ruby and Sapphire). She made her debut in "Coach Steven".
Role in the series
Personality
Edit
Sugilite cares for herself first and foremost. Though she carries out mission objectives effectively, she has problems with impulse control and does not hesitate to use her power for personal gain. She combines Garnet's headstrong, unwavering nature with Amethyst's indulgence, as well as her negative attitude towards authority. The resulting personality is a volatile mix that is highly aggressive and dangerous to everyone she encounters. This causes at least one perilous situation, wherein Sugilite, enraged that she was left behind during a mission and asked to unfuse, viciously attacks and severely injures Pearl. She seems to possess some of Ruby and Sapphire's feelings towards separating. She also appears to be cold like Sapphire can be, containing Ruby's anger issues and Amethyst's recklessness. All of Sugilite's constituent Gems contribute to her general temperament, though the similarity in nature of Amethyst and Ruby seemingly overwhelm Sapphire. Though much like Sapphire, Sugilite refuses to change her mind when it's set on something, like not wanting to defuse.
Despite her destructive nature, she does seem to retain an attachment to Steven, refraining from marking him as a direct target during her rampages. Ironically, she inadvertently causes a chunk of debris to fly off at Pearl, who deflects it and hits Steven in the face. Sugilite appears to want to impress Steven with her strength, asking if he wanted "to see something cool?" when summoning Garnet's gauntlets and Amethyst's whip to form her flail.
Relationships
Edit
Ad blocker interference detected!
Wikia is a free-to-use site that makes money from advertising. We have a modified experience for viewers using ad blockers

Wikia is not accessible if you've made further modifications. Remove the custom ad blocker rule(s) and the page will load as expected.