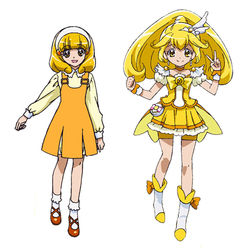 Kise Yayoi
 (黄瀬 やよい 
Kise Yayoi
?
) (
Lily
 in the English Dub
Glitter Force
) is one of the main Cures in 
Smile Pretty Cure!
. While being a little bit of a crybaby, she is actually quite a strong girl at heart. She is good at sympathizing with others, and will always keep a promise. Although she excels at drawing manga, she has never shown anyone her work due to her shy nature. She is part of the home economics club at school.
Role in the series
Personality
Edit
She is a shy girl with a big heart. She was first depicting as a crybaby, "crying over the slightest nudge". Though she had a few friends, she mostly kept to her own due to her shy and modest nature. When Miyuki and Akane saw what potential she had in art, they managed to draw a more passionate fire out of her. When their lives were put it danger, she completely shed her baby-ish personality and showed her true strengths.
Now that she's made a few friends, Yayoi has became more outgoing and passionate about being a Pretty Cure, especially the superheroic elements. She is quite bubbly and sweet, and while she may appear as a crybaby, she is actually quite strong when it comes to protecting her friends and making the right decision.
Relationships
Edit
Ad blocker interference detected!
Wikia is a free-to-use site that makes money from advertising. We have a modified experience for viewers using ad blockers

Wikia is not accessible if you've made further modifications. Remove the custom ad blocker rule(s) and the page will load as expected.